FIGHT NIGHT
Muay Thai Tournament
(traditional Thai Kick Boxing)
5th November 2005, Sing-China Building
(near Seletar airport)
I didn't expect to be here when I got up on Saturday morning.
A visit with my parents to my old Malay neighbour's house for Hari Raya festivities was originally scheduled. Instead I got a call from my friend Jay, who was asking for directions to the Selatar Airport, he was going there for a Muay Thai event organised by "Amateur Muaythai Association (Singapore)" He asked me to go and I took my camera along....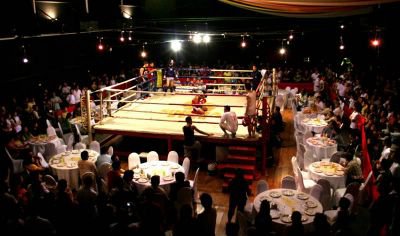 Ringside
It was my first time at any fight and I didn't know what to expect. The entrance fee was 20dollars and the crowd was building up at 6pm. The place smelled of deep heat muscle rub and the setup looked "underground", darkened walls, light bulbs strung up above the boxing ring. Looked good but the lighting was bad for photography.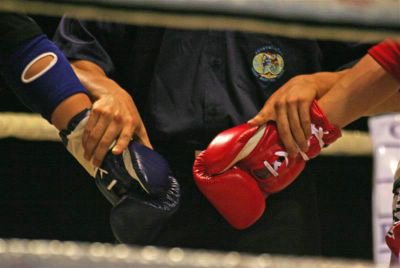 RED VS BLUE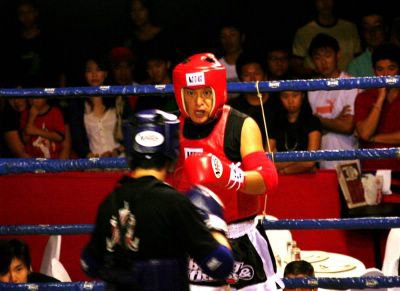 Rage
First half of the evening was set aside for the amateur segment, which saw representatives from different muay thai schools in Singapore challenge each other. Before each match, the competitors had to perform a little ritual called 'wai kru' which lasts for a couple of minutes.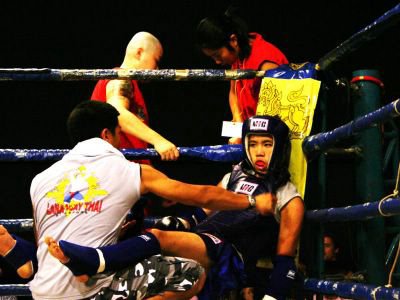 Someone please take the orange outta my mouth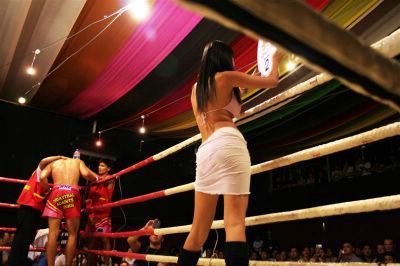 Eye candy- the ring card girls announcing the next round (an attempt, I suppose, to balance the testosterone soaked ring)
In the 2nd half of the evening, the game turned Pro and bloodier when muay thai exponents from Thailand, Indonesia, South Africa and Holland fought with Singapore fighters. One of the major difference between amateur and professional fights, the latter's lack of protective gear; No vest, no shin guards, no head gear... Just gloves...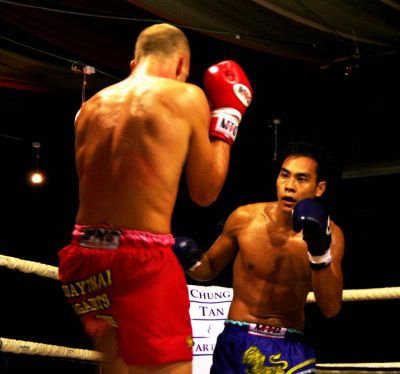 Singapore(blue) Vs South Africa (red) - Singapore was the favourite, some loud ang moh behind me was shouting for our local boy to "KILL THE ANG MOH!!!" I found it rather amusing... Singapore won this match by the way.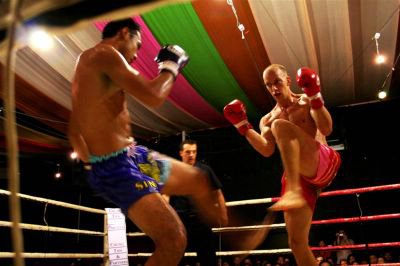 Get your kicks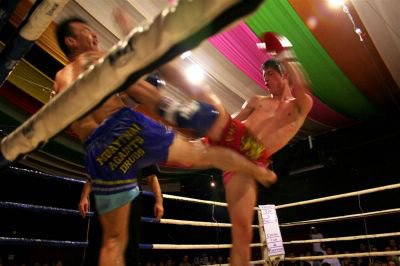 Singapore (blue) vs Holland (red) - Holland delivers a nasty blow to his face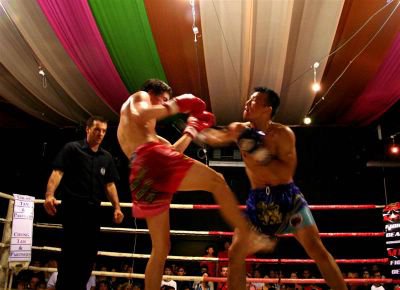 Returning the favour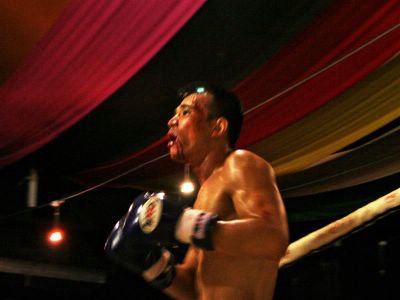 Blood, sweat and...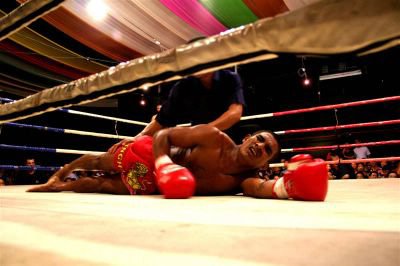 Nasty - Indonesia's representative grimacing on the canvas after getting kicked in the family jewels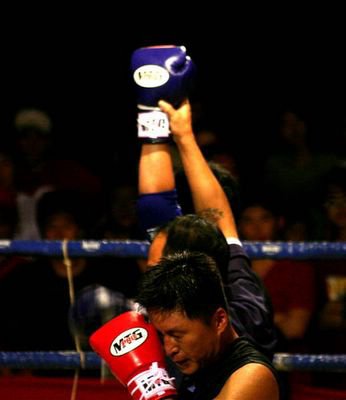 ...and tears... nah I don't think he's crying... just sweat in his eyes..
And the day ended late, at 10:30, it was an exciting evening, and rage in the ring was left in the ring, fighters and spectators made their was home, we went for dinner.
Another fight? I wouldn't mind going... but I'll stay outside the ring, where it's safer
Click here to view the rest of the pictures