Kranji War Cemetery I
Their Name Liveth Forevermore
I've finally visited Kranji War cemetery, something that I have been telling myself to do for a year now. The place so intrigues me as we pass it by so often but never seem to get more than a glimpse of it's green lawns and neatly arranged grave stones from a distance. Visible from the MRT line between Kranji and Yew Tee, this site of commemoration for the soldiers of the WWII sits on a small hill facing the bustling city of Johore Bahru.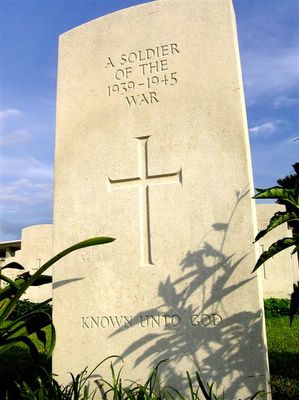 The grave of the unknown soldier: there are hundreds of graves marked this way. Their occupants died without a name, known only unto God.

I went there twice to take photos, the first time, I drove there on a Sunday afternoon all by myself. The place was empty when I got there, except for the sparrows and lizards, I was the only living soul in sight. Feeling like and intruder on hallowed ground I stepped onto the green lawn. It was an uneasy feeling at first but I soon got used to it as the eerie-ness wore off and the peaceful feeling of the cemetery grounds calmed my senses.
Walking past the endless rows and rows of graves, I stopped to look at some of their names and places they were from (some didn't have names). Many of them were only in their teens, many in their early twenties. These were people of my age. How did they die, I will never know. Makes you feel small, insignificant. Makes you wonder if there is more to life than our petty differences.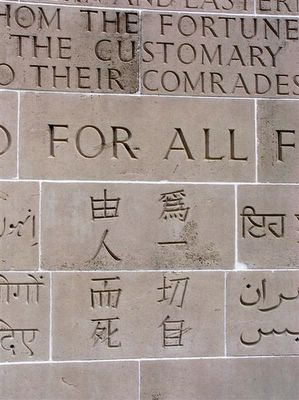 They Died For All Free Men: The centre piece of the Kranji War Memorial

At the top of the slope, stands the War Memorial. Shaped like the wings of an airplane, there are many walls with names of people. 24,000 names of people whos mortal remains were never found or given proper last rites. Names from all over the region can be found here, English, Australian, Gurkha, Malay, Chinese, New Zealand... etc.
At this point of time, I noticed a family coming to visit. Finally, some mortal company. The man was from Choa Chu Kang, he told me that he had always passed by but never dropped in, curious Singaporeans like me. They came and left, then some asian tourists arrived and a couple of caucasian tourists. They come in dribs and drabs, keeping the guest book constantly updated.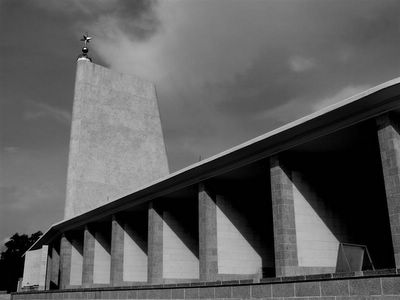 The Memorial
I've done enough shooting for today, the sun was setting. I felt that I've learnt something that day, I don't know what but it was a humbling feeling. A feeling of sadness for the loss of youth and innocence perhaps, the unimaginable scale of the amount of death and destruction that war brings.
I leave, crossing back into the present, grateful that we don't have to live through such a time of hardship and horror.
To view the rest of the photos,
click here
A second series of pictures will be up in a week or two, stay tuned